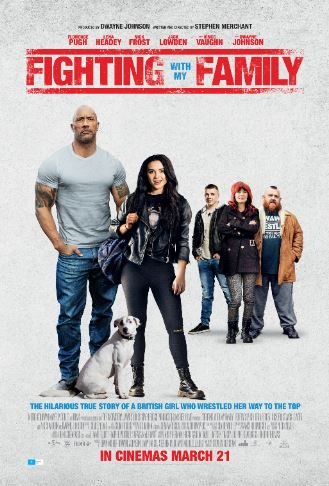 I had the privilege of seeing an advance screening of Universal Pictures new release
Fighting With My Family
last night.
It's based on the true story of Paige, one of the WWE (World Wrestling Entertainment) superstars.
The Knight family are family devoted to wrestling, Mum and Dad met though wrestling and the children have all grown up in the ring, fighting each other and running the local club, giving young kids something to do in Norwich, England. As they say "you're a Knight, wrestling's in your blood, like hepatitis." Brother Zak (Jack Lowdon) and sister Saraya (Florence Pugh) dream of getting into the WWE and winning the title belt. When the opportunity of a trial comes up, to their surprise Saraya is chosen, but Zac is rejected.
What follows are the parallel stories as Saraya heads off to the USA to follow her dream, and Zak deals with the disappointment of failure, struggling to find meaning even with a loving girlfriend and newborn baby.
It's a charming story in a grungy format. World champion wrestling is definitely not an area I know anything about, my only awareness of anyone in the sport is Hulk Hogan, from the 1980s. I would be one of those people who ask the question, "but isn't it all fake?" The answer from the family seriously being: it's not fake, it's fixed. I didn't realise how much of wrestling is about selling yourself and acting, as well as staged fighting. This also explains how Dwayne Johnson 'The Rock' has apparently moved so seamlessly to acting after his successful wrestling career. He is the producer as well as playing himself, and the few scenes he is in are both humorous and heartfelt.
The real highlight of this film is the family, they love each other dearly and support one another through financial challenges and jail time. The mother says to Paige (Saraya's new stage name), "You are the spark in our lives, no matter what you do with yours."
Paige and Zak have to work through their own jealousies and insecurities. Paige tries to convince Zak that running the local club for kids, including reaching a blind boy to wrestle, is still meaningful, saying "just because millions of people aren't cheering you on, doesn't mean it's not important".
There is a lot of swearing. Not so much four letter words, but more casual slang referring to genitalia and actions with them, and there is a reasonably high level of crassness especially in the conversations between family members. It did fit with the British working class setting and I suspect was rather representative of the world the Knights live in. There are some drug references. While there is no nudity, there are definitely some very skimpy outfits that the wrestling women and men wear, not leaving much to the imagination. Considering the content, there is of course a fair amount of violence, but with the exception of one real fight, the rest is in the wrestling arena.
While this is probably not my usual movie fare, I enjoyed it, it definitely fits the category of a "feel good movie". My friend and I were both a little teary with emotion at the end.
There are a lot of good fictional stories out there, but a good true story is always compelling. This is a good (mostly) true story shaped into a fun and enjoyable movie experience.
I was a guest of Universal Pictures.